Erie surgeon helps athletes with hip pain
Posted on July 30th, 2018 at 3:31 PM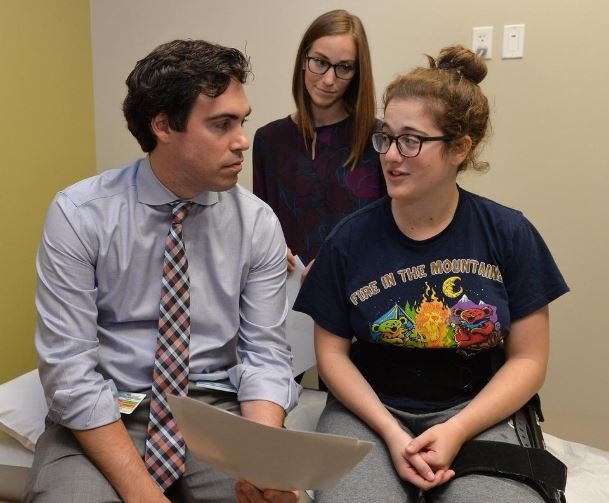 This article was originally published on goerie.com.
Eleni Vlachos has trouble remembering the last time her left hip and lower back didn't hurt.
The pain was a constant companion when Vlachos, 20, played lacrosse for Gannon University or went hiking with her friends. She tried to work through it until she tumbled during a lacrosse match last year and the pain intensified in her pelvis and back.
"I tried to keep playing, but I was spending two hours a day before practice just trying to get things loose and then icing right after practice," said Vlachos, who was forced to sit out Gannon's 2018 season.
Vlachos didn't know it but she had torn the labrum in her left hip and would need surgery.
The labrum is a ring of cartilage that forms a gasket around the hip socket and makes the joint more stable.
Hip surgery is often associated with older patients, but young athletes like Vlachos sometimes need it, said Jay Deimel, M.D., an orthopedic surgeon at Saint Vincent Hospital.
"Genetics causes some people to have slightly misshapen hips," Deimel said. "These anomalies can lead to problems like labrum tears, especially in those, like athletes, who are really active."
Vlachos was referred to Deimel by a Saint Vincent sports medicine physician after other treatments, including a back brace, didn't relieve her pain. He recommended hip arthroscopy, a minimally invasive surgery, to repair the torn labrum and tighten the hip capsule to reduce the risk of future labrum tears.
Deimel, an Erie native, has been doing hip arthroscopies since returning home to practice medicine. He said too many young athletes are giving up active lifestyles, including the sports they love, because they don't know about the surgery.
"We are trying to educate people in Erie about this treatment," Deimel said. "It's a difficult diagnosis. Eleni was treated initially for back pain before we finally determined she had a torn labrum."
Vlachos underwent surgery Thursday morning at Saint Vincent. Deimel made three small incisions at the hip to accommodate specially designed surgical instruments and a small camera.
A fourth incision was made later when Deimel and Christine Moloney, a Saint Vincent physician assistant, repaired and tightened the hip capsule.
"You can see the labrum tear right there," Deimel said during the surgery, motioning to a nearby screen where an image could be seen. "We are going to anchor the labrum to the hip bone with a couple of sutures."
Deimel and his team spent about two-and-a-half hours repairing the labrum and the hip capsule. Vlachos, who is from Boulder, Colorado, was discharged from Saint Vincent on Thursday afternoon and was at physical therapy Friday morning.
She will need crutches for about two weeks and it will take three months until she can do everything she did before the injury, Deimel said. But the early signs were encouraging.
"I feel pretty good, better than I thought I would," Vlachos said after doing some physical therapy Friday.
Vlachos did get some bad news. She has a labrum tear in her right hip and might need surgery on that one in the future.
"I'm going to take it day by day," said Vlachos, an incoming junior at Gannon. "My ultimate goal is to get back to the really active lifestyle I had, whether or not it includes lacrosse. I want to be able to hike for 14 hours, take a yoga class and eventually be ready for the FBI fitness test to become a special agent."
Additional Photos